The Dynamic Elements' Advantage
Quality products
Dynamic Elements focuses on importing, distributing and sales of quality, innovative and exciting marine equipment, marine electronics and water-sport and adventure accessories brands and products. All products go through a stringent in-house quality approval process before they are made available to you through our e-commerce website.
Peace-of-mind product warranties
All products sold by Dynamic Elements are covered by a manufactures warranty, to protect you against manufacturing defect.
Hassle free returns policy
If you change your mind about your purchase, we are happy to exchange the item or refund you, as long as it is in as new condition, unused, unopened and unworn and returned within 30 days of original dispatch.
Free delivery throughout South Africa
We offer FREE DELIVERY for all orders placed over R500 that are delivered within the borders of South Africa.
No waiting periods
If you can order it, we have stock of it!
If you live in a main centre your order should arrive within two business days if payment is confirmed before 12am. If you fall outside a main centre you can add 1 working day to the lead time.
Safe and secure online purchasing
We use Payfast payment and processing services. We process local and international credit cards, with a variety of fraud protection mechanisms in place to protect you.
The best advice with a personal touch
The Dynamic Elements team have a rich history, spanning 40 years with key supply partners, that began in 1989 with the successful start-up of a well-known commercial marine company.
Stephen Bogusch (Managing Director)
I believe that I am "old school", and value honesty and integrity - creating long standing mutually beneficial business relationships with a handshake - satisfying clients with quality products at competitive prices and going that extra mile in everything I do.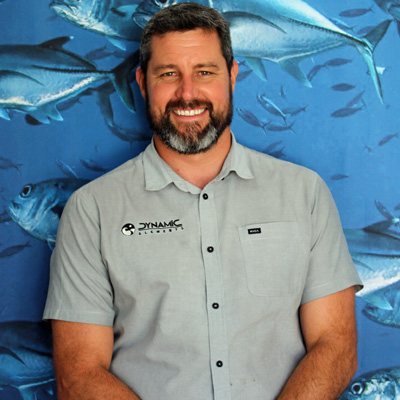 I joined Commercial Marine in Port Elizabeth, a marine company specialising in commercial fishing, in 1996.
I started as a salesman and worked my way up to general manager. In 2015 I resigned and started Dynamic Elements. Over the years I developed a thorough understanding and respect for the marine industry's colourful characters and unique products.
I am a passionate and motivated by nature with a love of the outdoors and spend most of my free time surfing, fishing or exploring on my adventure motorbike.
Each day is a new challenge and every challenge is welcomed!