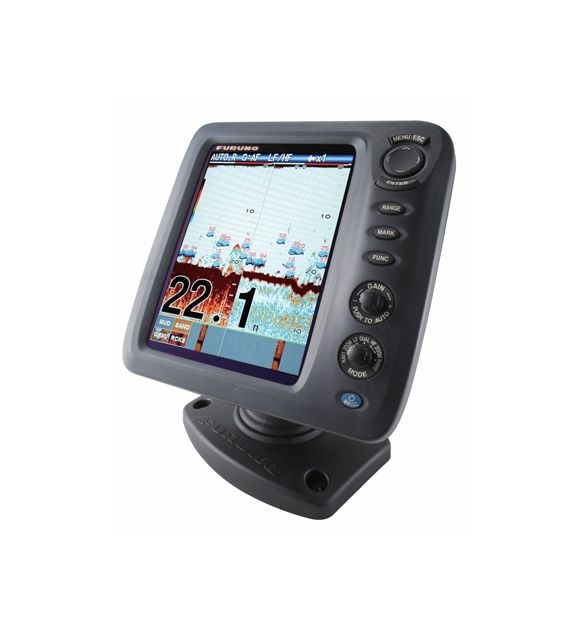  
Furuno Fish Finder FCV 588


Includes P66 Transducer with Temp 
The Furuno FCV 588 Fish Finder
Sold with Airmar P66 600w Transom Mount Transducer and Temp
Equipped with Furuno's latest technology,
Bottom Discrimination Function - Analyze bottom structure!
With the FCV-588, Furuno is introducing the new Fish Finder Technology called RezBoost™.  RezBoost™
is a revolutionary new feature that utilizes Furuno's exclusive digital signal processing protocol
to produce fish targets and images that are up to 8 times sharper than a conventional Fish Finder,
without the need to change out your narrowband transducer or purchase expensive broadband transducers.
Features
Bottom Discrimination Function

The FCV-588's Bottom Discrimination feature enables the fish finder to indicate if the major component of the bottom is rocks, gravel, sand, mud.
The Bottom Discrimination feature provides you with valuable information to locate rich fishing grounds, while boosting your catch of the day.

Graphic mode
The standard graphic display mode shows the most probable bottom composition by graphic or four colors.

Probability mode
The probability display mode shows the most probable bottom composition in graph form.
Please keep the following in mind when using the Bottom Discrimination Sounder:
1) Use at a depth of 5 m - 100 m.
2) Use transducer in transom mount or thru-hull mount.
3) Set the transducer parallel to the bottom of the craft.
4) To show a consistent display of the actual bottom, set the range display of the fish finder screen to "auto".
5) Enter the ship's draft value.
6) Use a ship speed of 10 kn or less.
7) In some instances, bottom component indicated on the FCV-587 may differ from its actual bottom structure.
    Please read the operation manual carefully before using this feature.

RezBoost™
   A revolutionary new technology utilizing Furuno's advanced digital signal processing
   to provide fantastic resolution without having to change your transducer.
ACCU-FISH™ identifies individual fish with size and fish mark function

Recognizes individual or multiple fish instantaneously
ACCU-FISH™ is a revolutionary fish size assessment function of the FCV-588.
In order to assess individual fish size, the echo strength from the fish needs to be computed and turned into fish size display

on the screen.It can detect the fish size of 10 to 199 cm, in the depth of 2 to 100 m.

Circles and fish size are displayed on fish echoes. When in dual frequencies mode, you can set the mark displayed on both or either frequency screen.

Displaying fish marks

The fish mark can be utilized to display on individual fish echoes when detected.

It helps beginners to identify the fish targets on the display for a more fun fishing experience.

Fish mark is selectable from two types of fish symbol, circle and square.

The fish symbol, displayed in two different sizes (Large: over 50 cm, Small: 10 to 49 cm), is a great help for anglers to identify fish targets.

Circle and square indentify targets without hiding fish echo.

White Line function distinguishes fish from bottom

The white line function helps you distinguish bottom fish from the bottom by changing the strongest signal color to white.

This function is not only useful discriminating bottom fish but is also valuable for judging fish school density.

The setting range is 0%-100%, in intervals of 1%. The higher the value the thicker the line.

Configurable Alarm function (depth, fish echoes, etc.)

When fish echoes come in the area which you set above the bottom, beeps sound and the alarm icon flashes at the top right corner of the screen.

Furthermore, an integrated alarm setting is also available that can be set by every and each condition,

including water depth, target depth, water temp, bottom component, etc.

Post-Processing Gain Control

With conventional gain controls, changes are made for new echoes only when a change in the gain setting is applied.

With the FCV-588's Post-Processing Gain Control, changes in the gain setting are applied to new echoes

as well as all of the echoes already on the screen. Because the changes are applied to both new and existing returns,

you will be able to quickly and easily find the right gain setting for your conditions.

Share and display information on a chartplotter

*Required connection to chart plotter.

Bright LCD for excellent in sunlight viewability

Bright 800 cd/m2 LCD gives excellent readability even in bright sunlight.

Clear visibility even when wearing polarized sunglasses.

Fast transmission rate of 3,000 PRR (Pulse Repetition Rate) per minute (at 5 m depth range)