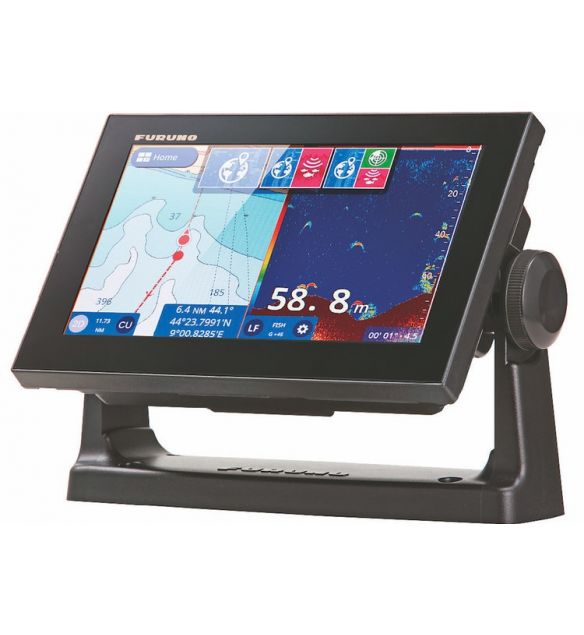  
Furuno GP1971F GPS Plotter Fish Finder


Price Includes C Map Chart And
Airmar P66 Transducer and Temp.
Furuno GP1971F GPS/Plotter/Sounder 
Powerful Technology in a 9" Chart Plotter
Price includes a 4D C Map Chart M-AF-D209-MS South-East Africa
and Airmar P66 600w Transom Mount Transducer with Temp
Unit Features 
Multi-Touch Interface

Convenient and intuitive slide-out menus 

The GP-1871F/1971F smart interface, inherited from the NavNet TZtouch2,
features slide-out menus containing all the tools and data you need to be in total control.
Plotter with AIS symbols 
When connected to an AIS receiver, the GP-1871F/1971F will display the latest AIS data

and provide vessel information.
Various display modes 
​Including Shaded reliefs, 3D and Satellite views.

Built-in CHIRP FISH FINDER

Unmatched detail with TruEcho CHIRP™

The high level of detail available with TruEcho CHIRP™ technology helps to distinguish fish schools,

 even when close to the sea bed.

Fish can be observed with a very high resolution and are displayed in a distinct boomerang shape.

The clear presentation marks individual game fish and bait fish, even when tightly schooled together.
ACCU-FISH™ and Bottom Discrimination with RezBoost™ 
With FURUNO's RezBoost™ data processing technology, fish schools and echoes are shown

with high resolution while you can assess fish size and bottom composition

thanks to ACCU-FISH™ and Bottom Discrimination functions.


Additionnaly, ACCU-FISH™ icons and colors can be freely customised

according to the size and depth of the targeted fish. 

Wireless Radar Connection

DRS4W 1st Watch Wireless Radar

The GP-1871F and GP-1971F are connectable to the 1st Watch Wireless Radar 
(Output Power 4 kW) giving your Chart Plotter a major upgrade in accuracy and safety.
 Easy screenshot and MicroSD card

Tap the display with two fingers to capture a screenshot

that will be saved directly to your microSD card.